Items filtered by date: January 2012
Friday, 27 January 2012 18:30
Brilliant looks from The Emilio Pucci Fashion show in Milan. Pre-Autumn/Winter 2012-2013!
Check out the maxi dress, the printed scarf blouse, the fitted dresses, & the exuberant use of jewel toned hues; color block style!
Get a head start on your coming summer wardrobe, your mind will get on a roll with these inspiring pieces.
What do these pieces have you craving? Are you into the Jewel tones?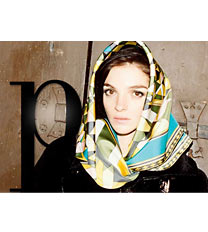 Emilio Pucci was an Italian Designer who entered the fashion world by designing sportswear. Pucci began designing completely by chance; he was inspired by the ski slopes to design ski clothing. Emilio Pucci was known by such nicknames as "the Marchese" and the "King of Causal Couture." 

Emilio Pucci's collection is best known for its signature prints. The iconic print consists of graphic, abstract designs which swirl in a kaleidoscope of colors. The joyful prints and use of color, combined with exquisitely designed silhouettes, make Emilio Pucci shoes & scarfs indispensable accessories for chic, glamorous women.

The Pucci woman never goes by unnoticed.